Cats on the stained glass windows. Simple and homely
In our country, most often domestic animals are either cats or dogs, and the number of the former is much higher than the latter. First of all, because they have a special grace and charm. The second reason, the most important - the cat can always cuddle, caress. She is almost always ready to give warmth of joy. Cats with great pleasure take care and affection. And you can play with it (well, or so we think). Therefore, it would be nice for any koshkolyub to contemplate stained glass cats at home, and some craftsmen try to perpetuate their fluffy favorites in the stained glass windows. And here's how to do it.
To create a stained glass you will need
sketch
glass of the required size;
steklograf;
special paints for painting on glass;
brushes, and be sure to be soft and of good quality (it is also desirable to wash them beforehand in order to prevent the pile from getting out during work);
contour paste in a tube (imitates lead tape, which is used in stained glass, and also allows you to define clear outlines for the picture).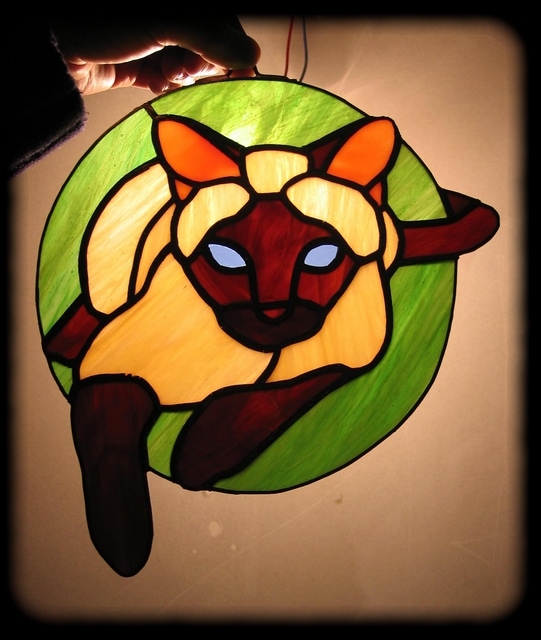 1. There are several ways to make good stained glass windows. Unfortunately, most of them are not very suitable for creating stained glass windows at home. They are used mainly in specialized workshops.
To make a stained glass window at home, use the following method - the so-called imitation of stained glass. Imitation involves painting on glass with special paints that do not require temperature treatment.
2. Before you start painting on glass, first clean the painted surface. To do this, use warm, warm water or alcohol-based cleaner.
3. Next, using a pencil on the glass (it is called just a glass-fibergraph), apply a drawing on the previously dried glass surface. If it is difficult to apply a picture directly to the surface of the glass, first try painting it on a sheet of white paper. After that, it can be put under the glass and copy the picture already on it.
4. Simulate lead paste with contour paste (it is usually produced for convenience in tubes). Separate sections of the picture, different in color.
5.Then wait a while - let the contour dry.
6.Now you begin to apply paint with neat and light movements of a soft brush. If you want to make the color more saturated, simply put several layers of paint, waiting for each previous layer to dry before applying the next.
Related News
Instant salted tomatoes in a package and pan: recipes with photos step by step
Vest - crocheted mesh
Bouquet of chocolates with own hands: master class with photo
Olives and olives - what is the difference
Beads from old wooden checkers
Embroidered flowers - an advertising ploy of the 1930s, and ideas for their design
Why do men need submissive Vedic wives
Warm and cozy turtleneck with patterns for sizes 38-50